Going to court without a lawyer?
If you're going to court without a lawyer, you can practice representing yourself by playing RePresent. You'll learn how to prepare for court, what happens in court on the day of your hearing, and how to present evidence and cross-examine the other person in your case.
Going to court for an eviction?
If you have an eviction hearing coming up, or are worried about being evicted, we have a new game: RePresent: Renter!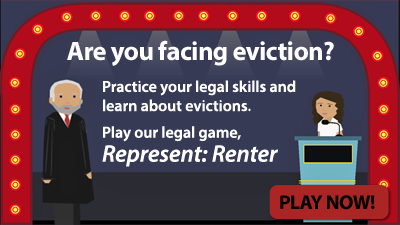 On mobile?
If you're on a mobile phone, you can get the app here:
Survey: Tell us what you think of the game. Want to help us make this better? Contact us at courtgame@slsct.org. We'd love to talk to you.