Upcoming Events
Raise the Barn for Justice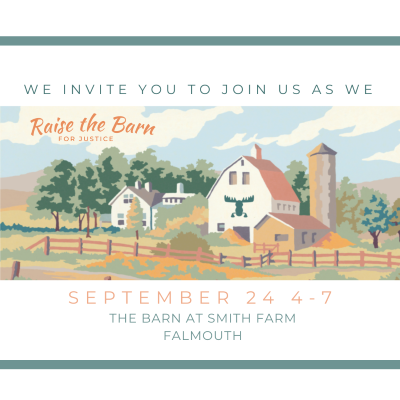 Tickets to our Raise the Barn for Justice event are on sale now!
Do you enjoy:
beautiful Maine barns in the fall? 
tasty snacks and cocktails? 
bidding on GREAT auction items? 
delightful bluegrass music? 
meeting folks who believe that there should be fairness, justice and equality for all? 
If so, we look forward to you joining our staff for an evening of celebrating Pine Tree Legal Assistance and our impact in our community!
This fundraising event celebrates Pine Tree Legal Assistance's work in protecting Mainers' livelihoods and economic stability through the civil justice system. This opportunity is for our community to come together, in much the same way traditional barn raisings of centuries past brought communities together to build or rebuild barns for the communal good.
We can't wait to celebrate with you at Old Smith Farm!
Ticket Info
Tickets are limited and are expected to sell out. Don't delay - purchase your tickets today! 
Questions? Please contact Misty at mvigue@ptla.org
---
Previous Virtual Event Recordings
Coffee and Conversation - Indian Law and Celebrating Wabanaki Heritage
Coffee and Conversation - Domestic Violence
Coffee and Conversation - Farmworker Unit
Coffee and Conversation - Update on the Eviction Crisis
Coffee and Conversation - Public Benefits in the time of COVID-19
Coffee and Conversation - An Update from PTLA at the beginning of the pandemic